Klaasen, Duminy half tons help South Africa level series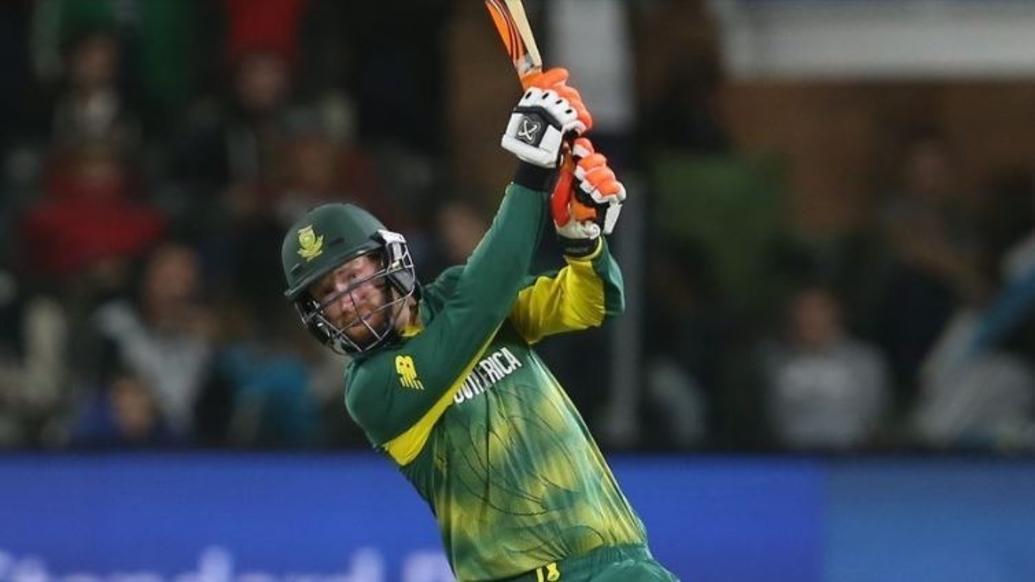 Stop the press! Stop whatever you're doing. South Africa have managed to win a game. Shocked? Even we are. But one cannot take anything away from their effort. Have you seen a spring? You can push it down and down and down, and then there comes a moment when it bounces back. Something of similar sorts happened with the Proteas. They were down and out, under the cosh, written off and all of a sudden, boom...they emerged victorious! From the series point of view, it's now on level terms and makes the final T20I something to look forward to...
What a marvelous innings that was from Heinrich Klaasen. A 69-run effort off just 30 balls including 7 sixes, that virtually set the tone for the massive chase. The way he nulified Chahal, hitting him both off the front and back foot was truly amazing. And when he was dismissed, it was upto to the calm and cool Duminy to provide the finishing touches and he did not disappoint. A birlliant 64 off 40 deliveries with 3 sixes.
It was an off day for the Indian bowlers, perticularly for Chahal, one would have to say. Yes the rain made it difficult for them to hold the ball, but they looked short of ideas but sometimes you just have to give it to the oppsition. This was by far the best cricket South Africa have played in the limited overs series. So over to Cape Town for the series decider.
A six to make it 1-1
WOW! Duminy hits a huge six and goes up in a roar! South Africa win by 6 wickets and 8 balls to spare to make it 1-1.
The captain stands tall
#SAvsIND: A streaky boundary down fine leg brings up a fantastic fifty for South African captain JP Duminy. 16 needed off 12 balls nowhttps://t.co/on9Te5eYS3pic.twitter.com/Ds1uKKZMKm

— Wah Cricket (@ABPCricketHindi) February 21, 2018
Unwanted 7 for Chahal
#SAvsIND: Yuzvendra Chahal has now conceded 7⃣ sixes in his four-over spell - the MOST by an Indian in T20Is. He ends up with expensive figures of 4-0-64-0 https://t.co/on9Te5eYS3pic.twitter.com/t78vgG82IL

— Wah Cricket (@ABPCricketHindi) February 21, 2018
Pandya bouncer accounts for Miller
Top edge... It's miles up in the air, Thakur at fine leg keeps calm and pouches it easily. That's the end of Miller, he has done no killing in this series so far and Pandya is pumped. Just the over India were looking for, no boundaries and the prized wicket of Miller. 47 needed off 30 now, it's anybody's game.
Klaasen falls for 69
Huge huge roar from Unadkat and he has every reason for it. The Klaasen carnage started from two sixes off his over and now it comes to an end. But not before he has scored 69 off 30 balls with seven sixes. Can India string a comeback now?
Claasy Klaasen, unorthodox Klaasen
Yuzvendra Chahal, one half of the pinciple tormentor of South Africa in the limited-overs series has been taken apart here. Three sixes and a four in the over. 3 overs 51 for none are Chahal's figures now. Klaasen first uses the slog sweep and then goes right back to use the depth of the crease and finally uses the reverse sweep to take 16 off Chahal's first three balls. Duminy puts the icing on the cake with monstrous six over deep mid-wicket.
Maiden T20I fifty for Klaasen
#SAvsIND: Maiden T20I 5⃣0⃣ for Heinrich Klaasen and that too in is home ground, he gets there off 22 balls (5 sixes, 2 fours)https://t.co/on9Te5eYS3pic.twitter.com/YCpdfc2YYx

— Wah Cricket (@ABPCricketHindi) February 21, 2018
SA 84/2 after 10
A very good from young Shardul Thakur, under the circumstances, just 4 from it. The scores are abosultely even after 10 overs. India had lost a wicket extra. Gee we are in for an exciting finish and the great news is, the rain has left Centurion for good.
.6..6.
What an over was that. Unadkat bowled two with the straight seam and both of them vanished into the orbit. Klaasen clearly likes the ball coming onto his bat. The rest of the four deliveries were obviously slower ones, to which Klaasen had no answer. A six or nothing over. SA 50/0 after 6 overs
Hendricks goes
This will hurt South Africa's chances, they are behind by 9 runs on DL now. A good length ball around off, Hendricks swings his bat across the line but mistimes his shot in the air towards deep mid-wicket. A simple catch for Hardik Pandya in the deep. That was a knuckle ball, shows the replay. The Indian bowlers are using this variation to good effect of late.
Unadkat removes Smuts
The pressure of the asking rate got to him. Smuts tries to run down the track to force the issue, Unadkat was clever enough, slows down the pace and Smuts had no answer. He was caught in no mans land and the ball ballooned up in the air to land comfortably in Raina's lap.
India innings round-up
103 runs from the last 10 overs has seen India finish on a high in Centurion. With the chance of rain around, Duminy inserted India in to bat. He got a good start as Rohit, Dhawan and Kohli were sent back inside the Powerplay. Raina stayed their for a bit but couldn't last long. It seemed like South Africa have their tails up and they might restrict the visitors to a really low total but it just wasn't meant to be. The storm named Manish Pandey quelled all those thoughts as he tore the hosts' bowlers apart.
And then the man who has been guilty of not playing to his potential proved the wrongs right. He played an innings of substance and gave the much-needed impetus towards the end. He and Pandey stitched an unbeaten on 98-run stand with both scoring their respective fifties. South Africa will be really disappointed again. They had India on the mat at 45/3 but once again squandered it away.
Junior Dala was the standout bowler for them. JP Duminy too had a good outing with the ball but the rest just couldn't stop the onslaught. Right then, the surface having in it for the bowlers and we saw the change in pace causing some trouble. The Indians would be backing themselves to defend this down, given that they have done exceedingly well in the past. Will South Africa keep the series alive? We shall find out..
Grand finish
18 runs off the last over, including one six and two fours, the Dhoni of old gave glimpses. India finishes with a healthy 188 for 4.
Dhoni announces return
#SAvsIND: @msdhoni returns to form and how. His 2nd T20I fifty off just 27 balls. https://t.co/on9Te5eYS3pic.twitter.com/aQBUhBeifU

— Wah Cricket (@ABPCricketHindi) February 21, 2018
Bursts through the hands and six
Shall we call that a drop? We should for sure. It seemed Dala had it covered but the ball bursts through his hands and goes over the ropes for a six. Chris Morris is fuming. The partnership carries on.
Record for Pandey
#SAvsIND: Pandey's 76 * now the highest score by an Indian in T20Is in SA. Pandey goes past Gambhir's 75 in the World T20 final in 2007.https://t.co/on9Te5eYS3pic.twitter.com/pF2cWwqAhv

— Wah Cricket (@ABPCricketHindi) February 21, 2018
50 for Manish Pandey
Manish Pandey gets to his 2nd T20I fifty with a single through covers. Well played, Manish! Was a bit slow to start off but seems to have gotten his eye in now. Needs to finish well for his team now.
Rain falls for 30
Phehlukwayo provides the breakthrough! Raina walks across the stumps to heave it over mid-wicket but misses the ball completely and it hits him dead straight. Manjrekar says they should have gone for the review but Pandey advises Raina the opposite. So he walks back for 30. IND: 90/4
Bang goes Pandey
Is he carrying a photocopy machine with him? If there ever were two identical shots then these are the two and the result the same, back to back sixes over deep mid-wicket. Flighted deliveries around the pad and Pandey gets down on his knees, slog sweeps it to deposit it deep into the crowd. Pandey is taking a liking of Shamsi. Two sixes and a four in the over. IND: 85/3 after 10
A jaffer to get rid of Kohli
Edged and gone! Look at the delight on the South African faces, it's the India captain, it's Virat Kohli (1). An absolute snorter from Junior Dala, that rises awkwardly from length, kisses the shoulder of Kohli's bat and lands harmlessly in Klaasen's gloves. A body blow to India. They have lost three for 45.
Soft dismissal for Dhawan
What on earth have you done Dhawan? Hits a full toss straight down the throat of the mid-on fielder. That was asking to be hit, but Dhawan ends up getting the toe end of the bat, the move to bring the spinner on has done wonders for South Africa. They have got their second wicket. Dhawan goes for 24(14)
Raina joins the party
One through the off side and successive ones through the on side, Raina brings Junior Dala to ground with three fours in one over. He means business here. That wristy flick past mid-wicket was a treat to the idea. Early problems for South Africa. From 0/1 in 1.1 overs, India have raced away to 40/1 at 4 overs.
Dhawan counter-attacks
Take that! says Dahwan, another six, this time bigger. Morris erring on the shorter side for the third time in the over and Dhawan gives a full monty. 20 runs off the third over, India up and running.
A lovely pull shot over the long-leg boundary for a six, followed by a trademark Dhawan backfoot punch past point for a boundary. Dhawan takes the pressure off with hissuperb counter attacking insticts.
It's Suresh Raina again. So Kohli's experimentation with the No. 3 position continues.
Junior Dala, if not Morris
WOW! Another peach of a delivery and the finger goes up again. This time there is no question of a review. The ball appeared to have stayed a tad low but full marks to Junior Dala for hitting the right area on his very first ball. A golden duck for Rohit Sharma. India: 0/1 after 1.1 overs.
The dream start that wasn't to be
Yes, there is an inside edge. Dhawan lives to fight another day. South Africa's dream starte goes up in smoke. But there is encouragment for Morris.
Huge appeal and the umpire raises his finger, What a start for South Africa. Oh wait! Dhawan opts for the review straight away, suggesting there was an inside edge. Morris gets the new ball for the first time, becuase of his ability to move the ball and produces an ideal first ball that comes back in to the left hander and cramps him for room.
India playing XI: Virat Kohli (capt), Shikhar Dhawan, Rohit Sharma, Suresh Raina, Manish Pandey,MS Dhoni (wk), Hardik Pandya, Yuzvendra Chahal, Bhuvneshwar Kumar,Jaydev Unadkat, Shardul Thakur.
South Africa playing XI: JP Duminy (capt), Farhaan Behardien, Junior Dala, Reeza Hendricks, Heinrich Klaasen (wk), David Miller, Chris Morris, Dane Paterson, Andile Phehlukwayo, Tabraiz Shamsi, Jon-Jon Smuts.
Team News: Jasprit Bumrah has got a niggle, Shardul Thakur replaces him. No changes for South Africa.
TOSS: South Africa wins the toss and opts to field first against India at Centurion.
UPDATE: The rain has stopped and the groudstaff have done a commendable job. The toss will be at the scheduled time and match will also begin at 9.30 pm IST. Fingers crossed for a full 20-over game.
JUST IN: No rain in Centurion, #SAvsIND 2nd T20I likely to start on time (if there is no further rain)https://t.co/CDVrJF1dZZpic.twitter.com/gvX70klJT1

— Wah Cricket (@ABPCricketHindi) February 21, 2018
Hello and Welcome to the live coverage of the India vs South Africa 2nd T20I at Centurion. There is some not so welcoming news coming in from the SuperSport Park as rain has washed out the Women's 3rd T20I and there are high chances of it inflicting multiple stoppages during this match also.
There is a 55% chance of rain during the match, which means this could be a long night for our Indian viewers.
The prelude
With limited options in South Africa, a team generally travels to the same venue multiple times in a long tour involving all three formats of the game. The situation with India is no different, as they have made their way to Centurion for the fourth time – the most they have been to any venue on their near two-month long South Africa tour. After a Test defeat and two thumping ODI wins, they will face the hosts in a series deciding second T20I at the SuperSport Park on Wednesday.
The Men in Blue won the first T20I at Johannesburg by 28 runs and another victory will see them wrap up another series win on this tour – their first ever T20 series win in South Africa.
A prospective 3-0 series' win would also help India climb up the ICC T20I Rankings and take up second spot behind Pakistan. However, if Australia beat New Zealand in the T20 tri-series' final (on Wednesday as well), India would stay on in their current third position.
Word from the Indian camp is that Virat Kohli will be fit in time for game. The skipper had hobbled off in latter stages of the previous game on Sunday with a left hip problem. The team management had deemed the issue as "nothing serious", and as such, he is expected to walk out at toss time on tomorrow.
Kohli had suffered a slight knee issue while fielding in the first ODI at Durban as well, but he brushed it off to score a fine hundred thereafter. Even so, another injury scare only underlines his exhaustive workload.
Wrapping up the series here might also enable Kohli to take time off and sit out the final T20I in Cape Town, keeping in mind his hectic schedule over the next three months.
If at all, India do need to consider his absence from this second match, then K L Rahhul would come in as replacement.
He was left out from the previous game in favour of Manish Pandey, but now comes back into reckoning owing to Kohli's pending fitness ruling.
However, it is not expected to be the only change to the playing eleven. While India have shown a propensity recently to play a left-arm pacer in their T20I eleven, Jaydev Unadkat's inclusion in the Wanderers game was perhaps down more to the good batting conditions on offer.
The pitch at Supersport Park has played slow throughout this tour and the same is to be expected once more. In that light, India could once again opt for two spinners in the eleven, and 'chinaman' Kuldeep Yadav comes back into reckoning.
Even left-arm spinner Axar Patel, who hasn't got a game on tour yet, could be considered given his ability to keep things tight.
The one surprising element for India was Suresh Raina's elevation to number three. If Kohli does play, will he repeat this ploy once again?
In Johannesburg, it was obvious that the team management had gauged conditions early and deemed 200 a par-score on that pitch.
Thus, their move to send Raina up and attack during the powerplay overs with Kohli held back to anchor the middle-order, allowing the returning left-hander a license to free shot-making.
To an extent, it does shore up India's only frailty – lower middle order – particularly as the team management continues to back MS Dhoni in the shortest format.
The former skipper is also reluctant to bat higher up in keeping with his penchant for finishing off the innings.
Kohli's 'demotion' to number four, despite staggering average at his favoured spot, helps stabilise the lower middle order at least in the short term.
Meanwhile, only last Tuesday, South Africa had faced a do-or-die moment in Port Elizabeth and now have their backs up against the wall for a second time in eight days.
The hosts had put their hopes in a basket full of new eggs. Yet, despite hitting the refresh button, they weren't able to muster the required challenge for a high-flying Indian team at the moment.
AB de Villiers is now ruled out of this T20I series (with a left knee problem) as well but Cricket South Africa has not named a replacement. So, JP Duminy must find solutions from within the available squad.
The stand-in skipper was adamant that their plans at Wanderers – including the decision to bowl short to India's top-order in the powerplay overs – were sound enough, and just needed proper execution.
In that light, it is easy to assume the same playing eleven could take the field yet again.
It remains to be seen if the Centurion pitch will provide them enough bounce to try out the short-ball ploy once again, or indeed if the Proteas have thought of a plan B this time around.
Teams (from):
India: Virat Kohli (capt), Shikhar Dhawan, Rohit Sharma, Suresh Raina, Shreyas Iyer, Manish Pandey, Dinesh Karthik, MS Dhoni (wk), Hardik Pandya, Yuzvendra Chahal, Kuldeep Yadav, Axar Patel, Bhuvneshwar Kumar, Jasprit Bumrah, Jaydev Unadkat, Shardul Thakur.
South Africa: JP Duminy (capt), Farhaan Behardien, Junior Dala, Reeza Hendricks, Christiaan Jonker, Heinrich Klaasen (wk), David Miller, Chris Morris, Dane Paterson, Aaron Phangiso, Andile Phehlukwayo, Tabraiz Shamsi, Jon-Jon Smuts.