BIZARRE: Ball strikes bowler's head before crossing boundary for a six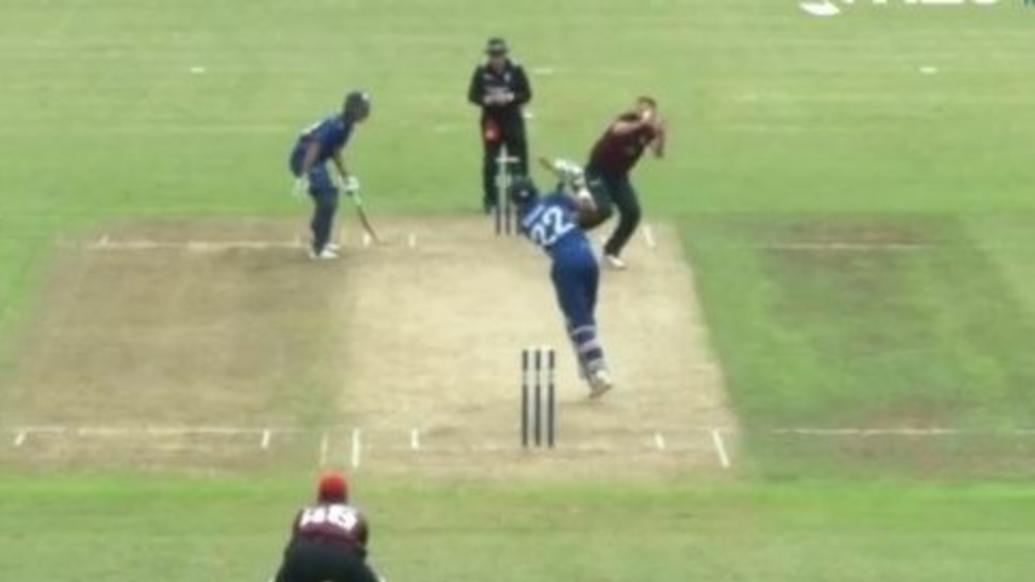 New Delhi: It is often said that umpires and bowlers are most vulnerable when batsman, in an attempt to score runs down the ground smashes the ball back with brutal force. With almost no reaction time, there have been many injuries in the past of such sort where bowlers have got injured with the ball on their follow through. Yet another freakish incident took place on Wednesday in New Zealand's domestic 50-over competition.
Auckland batsman Jeet Raval struck an Andrew Ellis delivery so hard that it hit the bowler's head and still crossed the boundary ropes for a six.
The bizarre incident took place in the 19th over of Auckland's innings when Canterbury captain Andrew Ellis brought himself on the attack. After hitting six off the first ball, Jeet went for another one off the consecutive ball. He played the lofted straight drive which went back in the direction of the bowler. Ellis, barely had time to flinch was also unable to raise his hands in time as the ball collided with his head and then launched towards the long-off fence where it cleared the rope. The umpire initially signalled a four but that was quickly changed to a six, as Raval went to check on Ellis's condition.
Ol' Jeets used Andy's head as a ramp today. Don't worry, nobody died. #FordTrophyhttps://t.co/g2EsYaYifJ

— The Niche Cache (@thenichecache) February 21, 2018
Ellis after suffering the blow, left the field for a concussion test but later returned to bowl six overs to end with figures of 7-0-52-2, including Raval's wicket.
Raval's 149 off 153 balls helped Auckland register a 107-run win over Canterbury but the bizarre incident in the match stole all the limelight.